Indian citizens with a  valid passport do need to apply for a visa to enter Myanmar. In September 2014, Myanmar government launched the Tourist e-Visa system, allowing Indians to process their travel documentation without having to visit the consulate or embassy beforehand. To date, Indian travelers can also apply for Myanmar visa on arrival at Yangon International Airport, Nay Pyi Taw International Airport and Mandalay International Airport when traveling to Myanmar.
Myanmar Visa for Indian Citizens
Myanmar e-Visa
What is Myanmar's e-Visa?
Myanmar e-Visa or Electronic Visa is a form of visa application that allows you to make a request via the official website of the Myanmar Embassy instead of going to the office. Since September 2014, there are two kinds of Myanmar e-Visa has been operated: tourism and business purposes.
Myanmar e-Visa for Tourism Purpose:
Indian citizens who apply Myanmar e-Visa for tourism purposes will have the maximum consecutive stay of 28 days since the day you enter the country.
Myanmar e-Visa for Business Purpose:
For business purposes, you will have a continuously 70-day maximum stay since the day of entry.
Myanmar e-Visa for Children:
Children over 7-year-old are required to apply for the e-Visa with the support of their parents or guardians. For those who are under 7-year-old are exempt for the Myanmar e-Visa with the following requirements:
Traveling with their parents or their guardians
They are included in the parents' or the guardians' passport
All required personal information for the children is declared in details in their parents' passport
Myanmar Visa on Arrival
Myanmar Visa on Arrival is issued for Tourism and Business purposes only, which include attending a seminar or conference, as well as for Transit.
The duration for Myanmar visa on arrival depends on the purpose of your travel. For instance:
For Tourism purpose: 30 Days
For business purpose: 70 Days
Workshop, seminar, meeting: 28 Days
Crew Visa On Arrival: 28 Days
Transit: 24 Hours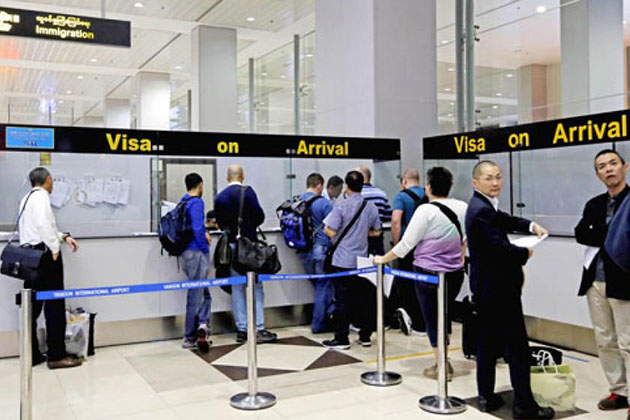 How to Obtain Myanmar Visa for Indian Citizens
How to Obtain Myanmar e-Visa
Requirements for Applying Myanmar e-Visa
For those who visit Myanmar for tourism purpose:
– A valid passport for over 6 months.
– The scanned photos of your passport and the pages of your information
– All visas and stamped entries you have ever got.
– 1.9–1.5-inch photo with white background and without glasses.
For those who visit Myanmar for business purpose:
– The scanned photo of the invitation letter from the company in Myanmar
– The scanned photo of your company's decision letter to assign you to go for business.
Step 1: Fill in the online Myanmar Visa form
Access Myanmar official government website:
https://evisa.moip.gov.mm/Home/Index
and find the form you need. Fill it carefully before submitting the required information.
Step 2: Confirm and accomplish a payment
After filling the form, there will be a confirmation to verify the information and the payment can be made by Master Card, Visa cards, etc.
Cost for Myanmar e-visa:
Business purpose: US$70
Tourism purpose: US$50
Step 3: Receive approval letter within 3 days
The application will take 3 working days to process. Then you will get the approval letter through your email. You need to print it out and bring it along with your passport. Your visa will be check at Myanmar Immigration checkpoint.
Step 4: Get the stamp of you e-Visa at the immigration checkpoint
When you show your passport and your visa at the border gate, the immigration officer will stamp your passport and allow you to enter if there are no mistakes in your documents.
How to Obtain Myanmar Visa on Arrival
Requirements for Applying Myanmar on Arrival
A valid passport for over 6 months
2 passport-size photos of yourself with dimensions of 4cm x 6cm
Proof of accommodation in Myanmar, along with the address where you stay
If you are traveling for business, you need the letter of invitation from the company sponsoring you in Myanmar, copies of documents regarding the inviting company, documents detailing the information of the inviting company, the sponsor's name and your position to the company
If you are transiting, you need the proof of onward travel
Getting Myanmar Visa on Arrival for Indian Citizens
Myanmar Visa on arrival fee:
For tourism purpose: US $50
For business purpose: US $50
For transit purpose: US $20
Crew: US $40
Workshop, seminar, meeting: US $40
You will pay the visa fee after submitting the application