General Information
Duration: 12 Days/11 Nights
Start/End: Yangon/Yangon
Tour Route: Yangon – Bagan – Mandalay – Heho – Pindaya – Inle Lake – Indein – Yangon
Tour Type: Sightseeing & Experience, Nature, Landscape & History
Tour Highlights
Admire one of the most stupendous Buddhist pagodas within the world: Shwedagon Pagoda
 Walk on the world's longest teak bridge: U Bein Bridge
 Explore the enormous legacy locales of Bagan in a chain of exceptional sanctuaries counting Shwezigon, Ananda, Htominlo, Damayangyi, etc
 Discover Mandalay – the former capital of Burma
Capture the magnificence of Inle Lake and see its famous excellence: the leg-rowing Intha fisherman
Brief Itinerary
Day 1: Arrival Yangon (D)
Day 2: Yangon City tour (B)
Day 3: Yangon – Fly to Bagan (B)
Day 4: Bagan – Mount Popa – Local Village – Bagan (B)
Day 5: Bagan – Fly to Mandalay (B)
Day 6: Mandalay – Amarapura – Ava – Sagaing (B)
Day 7: Mandalay – Mingun (B)
Day 8: Mandalay – Fly to Heho – Pindaya Cave (B)
Day 9: Inle Lake Excursion (B)
Day 10: Inle Lake – Indein (B)
Day 11: Inle Lake – Fly back to Yangon (B)
Day 12: Yangon – Departure (B)
Full Itinerary
Day 1: Arrival Yangon (D)
Welcome to Myanmar – the golden land of Myanmar. Upon arrival at Yangon International Airport, our guide will escort you to your hotel. In the evening, enjoy your Welcome dinner in Karaweik Palace which neglecting the Royal Lake with the impressive Shwedagon Pagoda.
Overnight in Yangon.
Day 2: Yangon City tour (B)
Yangon city could be a must-see city for sightseers who need to see a diverse Asia. It's the biggest city in Myanmar with a combination of nature, cultures and communities. This city was found in 1755 by King Alaungpaya and Yangon implies "End of Strife".
Start of the day, we visit the Sule pagoda in the city center. Walk around the Mahabandoola Park to see the colonial building and the city lobby. Continue with a visit to Bogyoke Aung San (Scott) Marker where shopper's favorite place (note: the market is closed on Mondays and public holidays). Afterward, we visit the world-famous brilliant Shwedagon Pagoda. Shwedagon Pagoda is a very important attraction: it is home to four Buddhist treasures including Kakusandha's sticks, Konagamana's water filter, Kassapa's shirt, and eight Buddha hairs.
Overnight in Yangon.
Day 3: Yangon – Fly to Bagan (B)
After breakfast, we leave for Bagan by a domestic flight (1 hr 20 minutes flying). Arrive Nyaung U Air terminal, our first visit is the busy Nyaung U market where you can see the local life. Continue with outstanding pagodas and sanctuaries of Bagan counting Shwezigon Pagoda built by Ruler Anawrahta within the early 11th century; Ananda Temple a whitewashed perfect work of art of Mon architecture with four standing Buddhas; Thatbyinnyu temple which was known as "temples of omniscience" dating from 1144.
Depend on your interests, we can spend time visiting traditional lacquerware workshops nearby Myingabar village. We then proceed to Dammayangyi temple, the gigantic sanctuary in Bagan. Capture the sunset moment from the sunset hill.
Overnight in Bagan.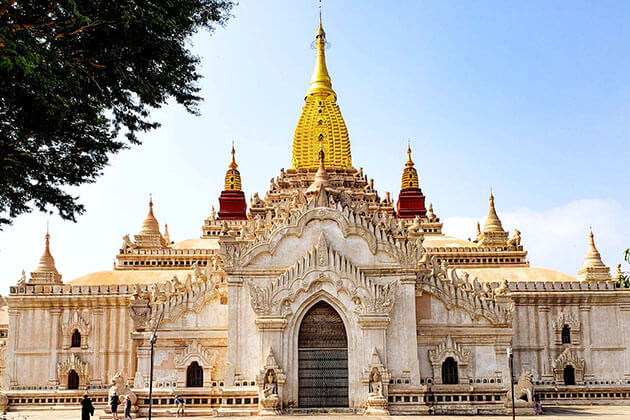 Day 4: Bagan – Mount Popa – Local Village (B)
After breakfast, we embark on the excursion to Mt. Popa, which is the foremost sacrosanct location for meditation in Myanmar. 777 steps lead us to Popa Kalat Monastery and you will have time to stop at the Popa National Park with a spectacular panoramic view. On the way return to Bagan, we stop at Min Nan Thu village to explore hand weaving and Cheroot making. Later, we visit Apyeyandanar and Lawkannandar temple to discover the man-made masterpiece of Bagan.
Overnight in Bagan.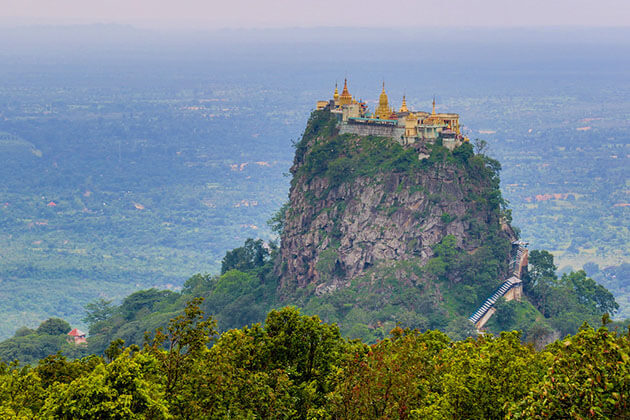 Day 5: Bagan – Fly to Mandalay (B)
Mandalay is the second-largest city in Myanmar after Yangon and is one of the most popular destinations and transit points for Myanmar tourists. After breakfast, we take the flight to Mandalay where we spend a full day touring with Mahamuni Pagoda, Kyauktawgyi Pagoda (a huge Buddha picture carved out of a single block of marble), Shwenandaw Monastery (also named Golden Palace) famous for its wonderful wood carving, Sulamani Pagoda and Mandalay Palace. Conclusion of the day, we capture the magnificent of Mandalay Hill.
Overnight in Mandalay.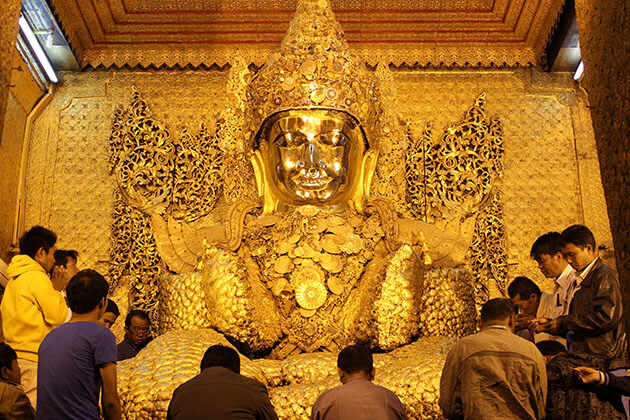 Day 6: Mandalay – Amarapura – Ava – Sagaing (B)
After breakfast, we drive to Amarapura (15 km from Mandalay) to visit the famous Buddhist monastery of Mahagandayon, where around a thousand monks live and study. Then, we continue to the 200-year-old U Bein bridge – also was known as the longest teak-wood bridge in the world. The bridge was built in 1782 at the time when Amarapura was Royal capital. Next up, we visit the Bagaya monastery where you may have a chance to witness a wonderful collection of Buddha statues.
In the afternoon, we embark on a boat trip to reach Ava – one of the ancient capitals of Myanmar. The most fascination could be a fine illustration of old sanctuary design ChumbucketChaung, a wooden monastery Budge (Bargayar Cloister) with 267 teak pillars and wonderful carved reliefs and adornments. From the observation tower, we can capture the stunning views of the Irrawaddy river and the Sagaing region. Fulfill your day with Sagaing hill, one of the foremost important Buddhist locales in Myanmar, home of 600 white pagodas and monasteries. This slope is broadly known as the devout center of Myanmar, which is domestic to 3000 monks, and on which there are 100 contemplation centers, pagodas, and temples.
Overnight in Mandalay.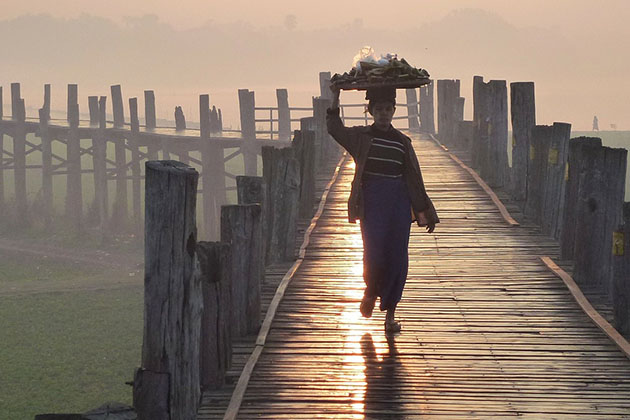 Day 7: Mandalay – Mingun (B)
After breakfast, we take a private boat along the Irrawaddy River to Mingun village which is located to the north of Mandalay. Mingun is famous for Myanmar tourists because of the following relics and relics: the Mingun bell – one of the heaviest and largest bells in the world, Mingun Pahtodawgyi stupa and Hsinbyume/Myatheindan white temple with Chinthe statues.
In the afternoon, we back to Mandalay and the rest of the day is free at leisure.
Overnight in Mandalay.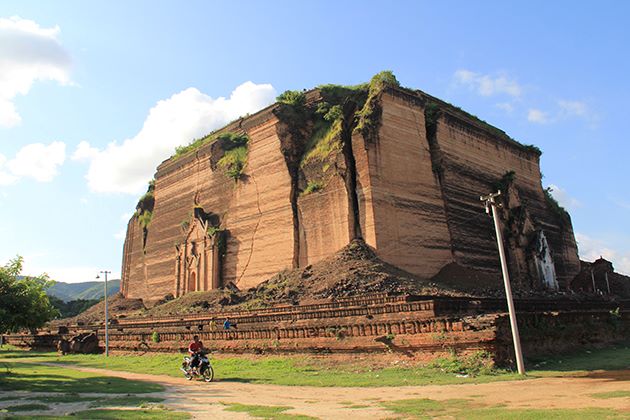 Day 8: Mandalay – Fly to Heho – Pindaya Cave (B)
Morning flight to Heho, the gateway of Inle Lake. Upon arrival, we enjoy a scenic drive to Pindaya Cave through the picturesque countryside of Shan State. Pindaya cave is famous for its limestone cave and lies deep in the hillside holding more than 8000 Buddha statues, spanning 150m. At the entrance to the cave is a 15m high Shwe Min U temple. The name Pindaya is associated with a long-standing local legend about a prince saving seven princesses from a giant spider. Along the two sides of the road to the area are hundreds-year-old banyan trees, spread and occupy a large space.
You also have a chance to visit local handicraft workshops producing Shan Paper made from mulberry bark as well as traditional umbrellas made from the same paper that is used by monks all around Myanmar.
Overnight in Pindaya.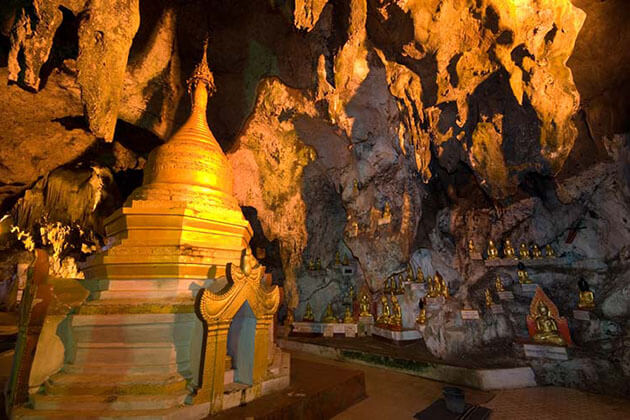 Day 9: Inle Lake Excursion (B)
Inle Lake is a destination not to be missed when visiting Myanmar. It attracts you by the lively life of the locals around the lake, the river life and the beautiful landscapes stretching. After breakfast, we travel 2,5-hour driving to NyaungShwe town where we embark on the boat trip exploring Inle Lake. You may observe the leg-rowing fishermen and see their large floating gardens.
Next, we visit Nga Phe Chaung Monastery which is famous for its unique 'jumping cats' who jump through hoops in the air, that's why it is also named 'The Jumping Cat Monastery'. Continue to the lake's important sanctuary Phaung Daw Oo Pagoda, which contains five sacred Buddha images covered in gold leaf. With a stop at the cheroot factory, you will know how the typical Burmese cigars are made by hand.
Overnight in Inle Lake.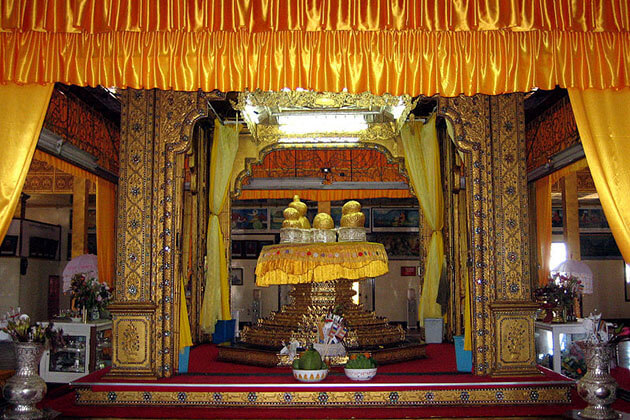 Day 10: Inle Lake – Indein (B)
Today, we travel by boat to Inle Lake's western bank area, visiting the Indein where you will admire the famous Shwe Inn Thein temple with 1,000 ancient towers built with unique architecture. These towers are built mainly from this baked brick carrying ups and downs, traces of time, close together to create an extremely mysterious space. On top of each stupa, there are also intricately and meticulously carved carvings.
In addition, you will have the opportunity to visit long-necked people in Myanmar. Since childhood, the women here have worn necklaces as big as their heads. From 1, 2, 3 to many consecutive ones cause the neck bone to be deformed, stretched out, extremely special.
Overnight in Inle Lake.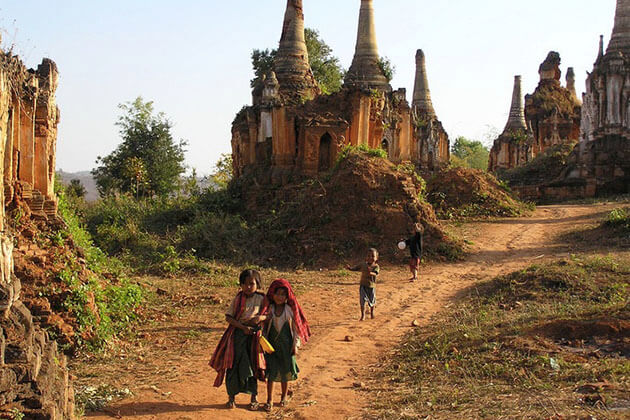 Day 11: Inle Lake – Yangon (B)
After breakfast, time at leisure until we transfer to the airport to catch the flight back to Yangon. Upon arrival, we transfer you to the hotel for check-in. The rest of the day is your free time. You should spend our last minutes shopping at Treasure, Gems and Handicraft shops or at the Bogyoke Aung San (Scott) market.
Overnight in Yangon.
Day 12: Yangon – Departure (B)
Breakfast at your hotel. Leisure time until transfer to the airport to catch your departure flight. Trip ends.